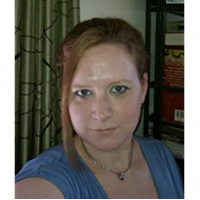 K.O. Newman
Paranormal Romance
After growing up in the Midwest, K.O. took flight to New England for University. With several magical years in Vermont behind her, she graduated college with a BA in English Literature and an urge to write, from the University of Vermont. K.O. moved back home to be close to family, and work at for school during the day, teaching creative writing at night.

She took her first creative writing class while she was still in college, with St. Louis Writer's Workshop, and was hooked on fiction from there on out. Many years later, K.O. found herself living in a small town in Illinois, and married to a wonderful man. Together they have an amazing young son, who is absolutely the light of their life. She now works at a retirement community and write in her spare time.
The most effective way to do it, is to do it.
Amelia Earhart
Ways to reach K.O. Newman